On January 12th, 2012, starting at 18:00, there will be an opening at Kallio Kunsthalle in Helsinki, featuring Nurri Kim's work Kaamos: Polar night. Please swing by if you happen to be in Helsinki.
The experience of a Finnish January is legendarily affected by Nordic light. Often it's the hardest month to spend time there. Kaamos: Polar night is a project that Nurri did during the winter of 2010, asking women of her rough age group (from both Finland and elsewhere) their advice on surviving the Kaamos, and the winter in general. The work combines their portraits with brief, fortune-cookie-like excerpts from the wisdom they shared. For example "Ice-swimming at Uunissari!" or  "Winter resets the mental, the state of mind." and many others.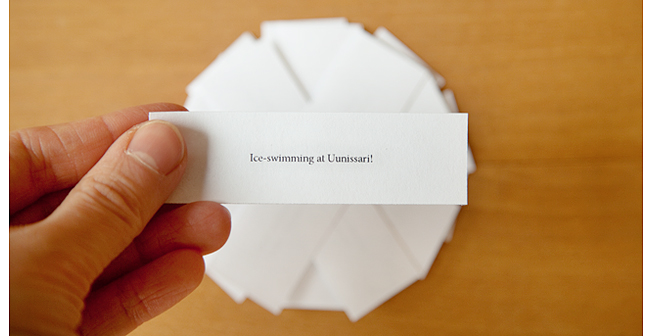 Kallio itself is a very interesting aspect of Helsinki. Because of its affordable rent and relative centrality, the name alternately summons images of a neighborhood where drunks hang out, ethnic markets thrive, and an emerging creative community sets up shop. Against this backdrop, Kallio Kunsthalle is a new non-profit art space run by multi-talented director Petri Saarikko ("Artist in theory, designer in practice"). Each exhibition combines the work of artists with that of creators who might not think of themselves as such. This will be the space's third exhibition; previous shows have included the work of Maija Saksman and Sasha Huber & Petri Saarikko.
Exhibition opening from Jan 12th to Jan 31st 2012. It's located in Toinen linja 31 in Helsinki, Finland.