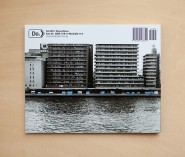 • For the realization of this project, Do consisted of Nurri Kim, Anne Galloway and Adam Greenfield.
• The version of Tokyo Blues we're offering here is edition 1.0 of 1st October 2009, an edition of 500 printed in China by Asia Pacific Offset of Hong Kong, on 157 gsm Gold East Matte paper. We chose the paper and cover stock carefully, in an attempt to balance a few competing desires:
For this project, the first and most important criterion was that the paper had to reproduce color tones and values faithfully, so that the images look the way they're supposed to. But we also understood that indulging ourselves in the super-premium stock we dreamed about would have made the per-unit price prohibitively high. (It also would have made the book a heavier object, and therefore more expensive to ship either individually or by the palletload.) These were prices we would have had to pass on to you, and we didn't want that.
We wound up choosing a stock with an acceptably good weight, "tooth" and texture, something that feels pleasant to hold and touch. The page gives the images their due, and can be turned and turned again without crimping or bearing smudges from fingerprints, yet is of a weight that still results in an object we could afford to produce and ship and you could afford to buy. We hope you agree.
• The book's titles and incidentals are set in DIN Mittelschrift, with captions and body copy in Berthold Akzidenz Grotesk.
• We produced the book entirely on Apple Macintosh computers, using Adobe Photoshop, InDesign and Illustrator software.
• The original prints of the images seen in the book were produced by Gabe Greenberg of Greenberg Editions, New York City. All prints are originally sized 14 x 9 inches (35.56 x 22.86 cm), and are available for purchase from the artist.